Startup companies in Dubai
If you are from Middle East, there is almost no chance that you have not heard about Careem and Souq. As of today  Careem, a ride-hailing service and Souq an online store are multi-million dollar businesses. This will be interesting for you to know that these companies were started by technology enthusiasts at a very small scale. Thanks to the ease of starting a tech business in UAE, these guys manage to become giants of the industry. It is important to mention that Souq became the highest valued internet company in Feb of 2016 and in March of 2017, Amazon confirmed the acquisition of Souq for about $580 million.
If you have an out of the box business idea and want to see it become a reality, UAE is the best place for you to be in. From getting a business license to registering your company to getting sponsors, everything is streamlined by UAE government.
Today we are going to look for 10 most promising startups in Dubai for 2017. Most of the companies form our list were able to gather more than $1 million dollars from venture capitalists and investment firms.
Most of the companies from our list are formed by entrepreneurs and enthusiasts, who love what they are doing and wanted to change the lives of people living around them.
Top Startups in Dubai for 2017
1. JustMop
Type: On Demand House Cleaning Service
Founder: Kerem Kuyucu, Ali Cagatay Ozcan
Year: 2016
As the technology is getting more and more advanced, entrepreneurs are finding more creative and innovative ways to solve problems. JustMop is a perfect example of this way of thinking. In essence, you book for a cleaner service from an app, set time for the cleaning service and you are all set. Professional cleaner from JustMop will be there on time and will do all the cleaning for you. They cover almost every type of cleaning service from carpets to floors to marbles. Right now JustMop is offering its service in Qatar as well.
This is one of the unique startups in Dubai for 2017 and just like other on-demand services like Careem JustMop is a bridge between cleaning companies and clients. Their outstanding app connects the two in a very seamless manner. The founder claims that their main feature is their SAAS(software as a service) which basically reads customer habits then do a statistical analysis and suggest a crew member when they need a service, plus matching a first-time user with a domestic service that was highly recommended. Ozcan said that they have made a million dollars in just a year with 30,000 cleaning services.  According to Gulfnews, the company is growing 20% every month.
2. Wrappup
Type: Intelligent Meeting Recording App
Founder: Rami Salman, Ayush Chordia, Rishav Jalan
Year: 2016
Warppup is not your regular voice recorder app that you have on your phone. It has much more to offer. The Key here is that this app has very intelligent machine learning algorithm built into it which not only tag speakers with their name but at the same time it allows you to search between speeches by inputting any word. Wrappup automatically tags the meeting session with important keywords. It also allows highlighting any part of speech and then share it without any hassle.
Warppup were able to raise $800,000 from investors like BECO and Hala Fedel. While giving an interview Salman said that with this seed money we are now redesigning the app and testing it by sending to customers who have applied for beta. He also added that his team is taking the feedback very seriously and are determined to make a very useful product. In a very impressive move, the global giant IBM invited Wrapupp team to take part in their Global Entrepreneur Program also granted them $24,000. IBM wants them to work on their "Watson's Natural Language Processing" algorithm.
3. InstaShop
Type: Intelligent Meeting Productivity & Recording App
Founder: Ioannis Tsioris, Ioanna Angelidaki
Year: 2015

Here is a summary from InstaShop own website:
"The easiest way to order your groceries and have them delivered to your doorstep in less than 30 or 60 minutes average time depending on your location. We offer a convenient and seamless grocery shopping experience that frees you from the unavoidable chore of heading to the supermarket with all the challenges you may face there. The result? More time to enjoy doing the things you love the most with the people you love the most!" Instashop has partnered with almost 50 supermarket chains and claims to have served more than 60,000 active users.The on-demand e-grocery market is very competitive as there are many apps that serve the purpose but as InstaShop outperforms all of them due to their wide variety of products from almost every major chain and reliability. They also allow for the schedule and regular delivery service with very easy reordering process. Quite recently InstaShop is also offering on-demand cleaning service.
InstaShop got an undisclosed amount of investment from largest UAE based online market Souq. As the amount was undisclosed but Suoq got a significant stake in the company. Souq said in a statement that they wanted to expand InstaShop service to other places as well and as fast as possible.
4. ShortPoint
Type: Web Design Platform with SAAS Support
Founder: Sami AlSayyed, Anas Nakawa, Serhiy Shekhovtsov, Ala Albatayneh
Year: 2016
ShortPoint is one of the very innovative startups in Dubai for 2016-2017 and it is very likely to raise serious money for its concept. ShortPoint transforms your SharePoint websites into a very feature rich website which improves user experience dramatically. The great thing is that ShortPoint does not require a single line of code to get work done. Installation is also very simple and some of the features that it adds to the site is a very responsive web page builder and a great theme builder.
While giving an interview to Arabnet Dubai, Sami AlSayyed said "If it is easy, everybody will do it. Do not ever give up or stop. The biggest lessons you will get is when you fail and make mistakes. Try to spot your mistakes, and think why they happened and attempt to avoid making the same mistake again. Identify the user need then propose a solution."
5. Wing
Type: Delivery Service
Founder: Muzaffar Karabaev
Year: 2016
Founded in 2016-2017 Wing is one of the hottest startup in Dubai. It is courier service with some awesome features. Wing caters all three people involved in a courier service i.e Customer, Courier, and Merchant.
So if you are want to send a parcel you just download wing app, choose the type of parcel you want to send, choose the vehicle and enter the pickup and drop address. It's that simple and you will be able to track the parcel all the way to the destination. There is the option for cash on delivery or by credit card.
Wing also allows people to become their courier. It works same as careem where you register your self as captain and whenever someone wants your services, they can simply call you. There is dedicated app for couriers.
Wing has a dedicated service for merchants. If your business in online you can integrate Wing directly to your website. Integration is ready for Woocommerce, Magento, and Shopify. If you have any other platform, their IT team is there to make sure the smooth integration.
6. TheList
Type: Luxury Items Market Place
Founder: Andreas Skorski
Year: 2016
Created by Andreas Skorski "The List" is not just another online marketplace. The key difference is that The List offers only most prestigious and valuable items around the world. You can buy directly from the luxury boutiques of New York and Paris from the comfort of your house. You do not need to worry about the authenticity of the items as they are directly sold from the specified outlet.
The list offers a unique mix of vintage and new pieces, a mix of the most desired brands and also rare unbranded items that are designed to not only appeal to a niche group of elite collectors. Another unique aspect of The list is that it utilizes an AI (Artifical Intelligence) Algorithm which studies each customer behaviour and shopping patterns and allows very personalized experience.
7. Unnyhog
Type: Mobile Based MMO(Massively Multiplayer Online) Game
Founder: Pavel Ignatov, Margarita Belorukova, Andrey Apanasik
Year: 2015
Unnuhog is Abu Dhabi based startup which has developed an amazing mobile based MMO game. Every player has his avatar and a tiny Planet. The goal is to build and evolve you Planet and the character and then defend it from other players. There are millions of other players around you, so you will travel to other Planets and fight with them. The unique thing is that this game is truly gestured control based and there are no on-screen buttons to press. The founders claim that they have combined the best parts of the league of legends and clash of clans, both of these games have millions of players. The developers were accepted by the California incubator YCombinator in December, to develop their games. YCombinator invests $120,000 for a 7 percent equity in the startups it accepts. In 2016 Unnuhog were able to raise $360,000 from different investors around the globe.
8. Boxit
Type: On-Demand Storage facility
Founder: Premlal Pullisserry, Abraham Thomas, Joby Mathew
Year: 2016
Boxit connects people who want to store their belongings with the companies that provide storage facilities. The process is very simple, you install Boxit app, select the number of boxes that you want to store, the logistics company will come and pick the boxes and will store it in a warehouse. You will have a digital catalog of all the items that you have stored in your space. Unlike other storage services where you need to pay for complete room or a box, Boxit allows you to pay only for the space that you items occupy. The pricing plan is also monthly based and the customer can cancel at any time. According to KhaleejTimes some of the unusual items stored are:
A teenage girl storing nine boxes full of her shoes
A newly married couple storing 18 boxes of their wedding gifts
A mother storing seven boxes full of her children's 'first' items, such as their first shoes, toothbrushes, and much more
This startup in Dubai has partnered with some of the very reputable storage facilities in the region meaning clients don't need to worry for their the safety of their belongings. Boxit is offering their service in Dubai, Abu Dhabi, Sharjah, Ajman, Al Ain and Kuwait. Some of the notable achievements for Boxit are as follows, winner of the Kuwait edition of Startup MENA's GCC Pitch Challenge 2015, winner of the Kuwait edition of the South Summit 2015, grand champion for Dubai Smart City App Hack 2015 and first runnerup at Seedstars World's Dubai 2015 round. They also got seed money of $100,000 from Angel Funding. They were also able to get an investment of $600,000 from different investors from Kuwait and UAE.
9. Shedd
Type: Fashion reseller app
Founder: Tariq Zabian, Alex Hutley
Year: 2016
When it comes to fashion startups in Dubai for 2017 Shedd takes the lead. Shedd is an online marketplace for used fashion items. They also offer new fashion clothing from small and business and individual designers. The concept of reselling used clothing is not new but Shedd has digitized the concept and they are one of kind service in UAE. Quite interestingly the Shedd associates its name with the snake shedding its old skin to get a new one. Shedd has its own Andriod and iOS app that you can download for free and then put your old fashion accessories on the market. In an interview founder of company Tariq Zabian said,"The growth of the fashion industry, when combined with the rise of online shopping in the UAE and the increasing use of social media channels as a first port of call for those searching for fashion goods to purchase, highlighted a need to create a one-stop online marketplace providing a similar user experience to Instagram, through which aspiring designers, entrepreneurs, and hobbyists can showcase their talents. However, unlike Instagram, users of Shedd can complete the transaction – whether buying or selling - via the same app."
In 2015 Dubizzle(Now OLX) an online add selling website invested 1 million dollars in Shedd, which allowed shedd to expand their idea. As of today, Shedd has more than 500,000 app downloads on Android alone. It is very likely that OLX will further expand the idea in other countries as well.
10. ChefXchange
Type: On Demand Chef
Founder: Karl Naim, Marc Washington
Year: 2015
As entrepreneurs have hit almost all the services from shopping to laundry to cleaning and transformed them completely, how it was possible that Cooking was left out. ChefXchange is an on-demand chef service where you book the services of an experienced chef. Once the chef is booked he will take care of all everything involved. He will buy groceries, he will cook and serve the food and he will also clean the utensils for you. They not only cover personal cooking but also arranges for big events and cooking classes.  As each Chef has reviews from previous customers so you know what you are paying for.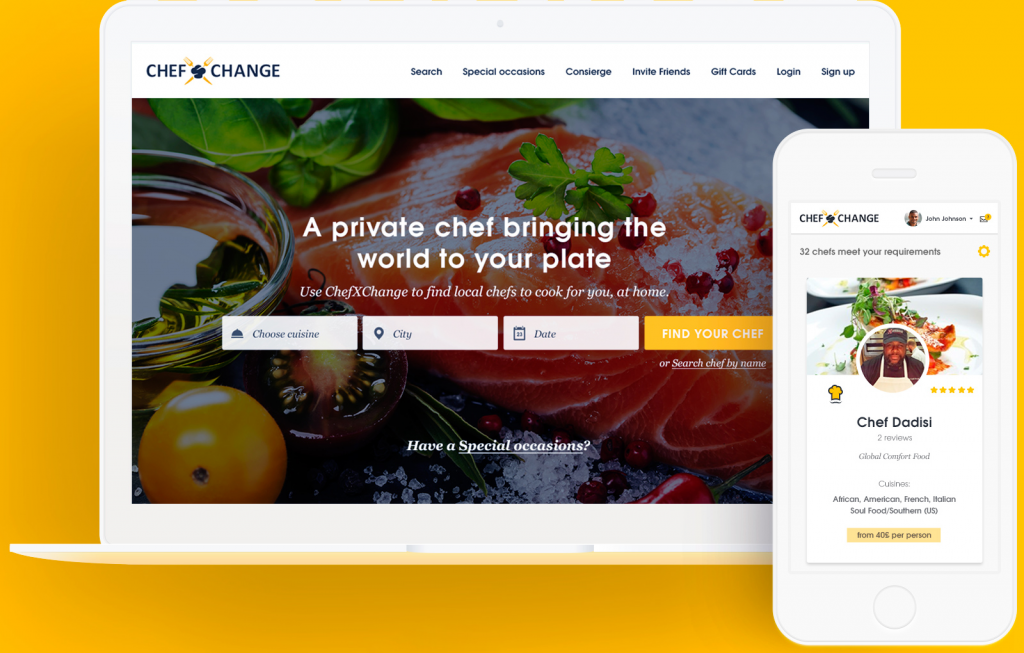 ChefXchang has also opened doors for Chefs or cooking enthusiasts that has made possible for them to earn a good side money. ChefXhange were able to raise $100,000 as seed money and also got $500,000 more which they wanted to spend on expansion.
Conclusion 
Startups in Dubai have seen a great boom in investment in recent times and this trend does not seem to be changing anytime soon. There are also many other startups in Dubai but the ones we have mentioned are most likely to succeed big time.